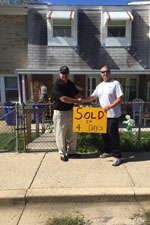 "Solving Real Estate Problems Is What We Do"
Gray's Home Solutions is headed by the father and son team of Darren Gray and Jerred Gray, who is now an agent with Kelley Real Estate Professionals, of Middletown, MD. After years of being closely involved in the real estate industry, they decided to form Gray's Home Solutions in 2010 with the goal of providing solutions for residents who were having difficulty selling a home for one reason or another.
"Around 2008, we were seeing lots of people devastated by the housing market crash, upside down on equity and facing foreclosure," says Darren. "And the traditional methods of selling a home weren't working anymore." In addition to market changes, homeowner finances can be strained by any number of events, including divorce, a change of jobs, relocation demands or medical bills. Even an inherited home can be a burden if the new owner doesn't decide to live in it. Insurance, upkeep and property taxes still need to be made while the house sits on the market.
"We got tired of seeing good people get stuck in bad situations, with no one helping them out."
Experts in the industry, there are few scenarios they have not encountered while working with homeowners from Hagerstown, Middletown, Frederick and Urbana area. The company offers various options, since no one approach is right for everyone. This multi-solution approach is what makes the company so unique, and so successful. The Gray's find special satisfaction when helping sellers who previously felt as if they were doomed.
"I can't tell you how many homes we've bought that others said were unsellable. We've helped folks avoid credit killers like foreclosure, sold houses in so-called bad neighborhoods and got fatigued landlords out of their rental properties," says Darren. "In many cases, we are able to buy these houses in under a month. One of our colleagues says we're like real estate pros on steroids," Darren jokes.
The process starts with a phone call and a free consultation.
Read more about Gray's Home Solutions from the Frederick News Post:
http://www.fredericknewspost.com/z/content_type/news_article/this-father-and-son-team-means-business/article_64e3da3d-cd51-5502-8e57-2741fbbfc4db.html