The majority of real estate transactions are done with the help of a real estate agent, and many consider their assistance money well spent. Navigating the complex world of real estate can be difficult for both buyers and sellers, and the experience of an agent can really help simplify this process. Though buying or selling without a realtor has the allure of not having to pay commission, many people in the market still choose to work with a realtor for all the benefits that this entails.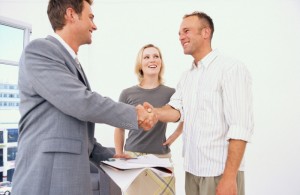 What are the Benefits of Working with a Real Estate Agent?
Time Management
You have a job, and so does a real estate agent. If you choose to work without a real estate agent, suddenly you are essentially working two jobs: your job and the job of the agent. This takes up a lot of time, and can be very stressful. Working with an agent allows you to pass off many of the responsibilities of house-hunting or selling to the agent, and overall can make the process a lot less stressful, and leave you with time to do the things you enjoy.
Access to the Market
As an outsider, you only have so much access to the market. You can use public listings and attend open houses on your own, but you're not exposed to the full range of properties that are available. Agents use the Multiple Listing Service, which gives a complete picture of properties for sale in your area. Agents also have industry contacts and a network which gives them much greater access to the real estate market. If plenty of options is what you're after, an agent can help.
Market Knowledge
It's not reasonable to expect someone who's not involved in the real estate market to know the ins and outs and keep up with local trends in their area. A real estate agents makes it his or her job to do exactly this. Working with someone with this insider knowledge can help you in a number of ways. From knowing the real value of a property to advertising to determining your buying power, buyers and sellers stand to gain a lot from the insider knowledge of an agent.
Experience
In a similar vein, agents have a lot of experience doing what they do, whereas the average person doesn't. This is especially important during the more difficult or complicated parts of buying/selling such as negotiation. An agent knows how to negotiate and how to get close to the price you're looking for. Agents also know how to guide you through the complicated and paperwork-filled process of closing.
Customer Service
Due to the nature of their line of work, agents have great people skills, and know how to provide good customer service. Working with an agent who is a good communicator and enjoyable to be around can make the process of buying or selling a home much less stressful.
Grays Home Solutions is not a real estate agency, but we do work with many talented agents in the area. We are very fortunate to have some of the best real estate agents right here in the tri-state area. For more information about local agents or our services, don't hesitate to contact us today.